Participants: Iain McCulloch, Steven Peachey, Melanie Stamell, Peta Stamell, Olaf Theden, and Andrew Wall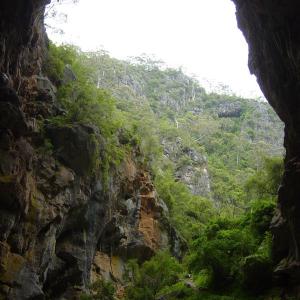 FROM THE ARCHIVES: Test website-ising a long past NUCC trip…
Another one of NUCC's big end of year trips. This time, it saw us going to Jenolan to meet up with SUSS for a couple of days of caving in Barralong (helping dive trips), Wiburds and Mammoth (survey work and fun); then heading up north to Kempsey, where we checked out caves in and around the Kookaburra and Moparabah areas. A little side trip up to Nimbin, through Armidale, and a stop off at Abercrombie caves on the way back finished off the journey.
Day 1 (Canberra – Jenolan) Sunday 30/11
After getting together at Olaf's place and having a late lunch, left Canberra about 2:30pm to reach Jenolan by sunset. Made it to Caver's Cottage and the SUSSlings.
Day 2 (Jenolan: Barralong/Wiburds) Monday 1/12
Iain and Olaf with Kier, Rod, Mark and Simon (SUSS) to help carry dive gear into Barralong Cave. Visited all the Oolite pools at the rear end of the cave. Andrew, Mel, Peta and Steven together with Ian (SUSS) into Wiburds to help with the survey work. According to the rumours, Peta got stuck in the cave for between 40 minutes and 2 hours (depending on who the story is told to ;-), needing to be chiselled out of the rocks that she had become wedged in.
Day 3 (Jenolan: Grand Arch/Mammoth) Tuesday 2/12
A rest day for all except Steven, who joined a SUSS scaling pole expedition into Mammoth cave. The rest of us lazed about Jenolan Village, and walked in the surrounding area. Peta left us in the morning to return to Canberra for a day.
Day 4 (Jenolan: Barralong) Wednesday 3/12
Another dive trip into Barralong. This time we all went in, making the party size 10. Got a small amount of time to take some pictures in Barralong. Ran into a wedding ceremony on the way out of the show-cave leading out of Barralong.
Day 5 (Jenolan: Show Caves/Mammoth) Thursday 4/12
Another lazy day for most, as we waited for Peta to return. Iain and Olaf visited the Show-cave system to investigate water quality after the recent dive work and rain. All of us ventured into Mammoth cave in the afternoon to check out Grinning Monster Lake, Lower River and Oolite chamber.
Day 6 (Jenolan – South West Rocks) Friday 5/12
Long drive up to South West Rocks, via Sydney, Newcastle, and Kempsey. Reached Phil Lardner's (KSS) place around 10:00pm, with Mel and Peta arriving sometime after 11:30 as they had visited a friend in Newcastle on the way.
Day 7 (South West Rocks – Kookaburra) Saturday 6/12
Drive out to Kookaburra, where we stayed at the Scout Hut, lighting the stove in the evening for warmth, then celebrating Andrew's 50th Birthday (three weeks prematurely) with some sparklers and chocolate cake.
Day 8 (Kookaburra) Sunday 7/12
A rest day in the Hut, due to unwelcoming weather. Played 500, Checkers and Backgammon. Mel, Peta, Steve and Olaf walked along Carrai Road in the evening.
Day 9 (Kookaburra: Rainforest Walk - Kempsey) Monday 8/12
Took the opportunity presented by the good weather to try and find River, Crystal and Fenner Caves in the thick rainforest north of Kookaburra. Turned out to be a serious bush-bash with no caves found. Even the GPS had trouble finding satellites in the dense bush! Next time we'll know to bring along local trackers!
Mel, Peta, Steve and Olaf drove to South West Rocks in the evening, stopping a road side diner for dinner as everything else was shut by the time we got there. Stayed at the Trial Bay Goal Camping area for the night.
Day 10 (Kempsey - Kookaburra) Tuesday 9/12
Dropped Peta off at the train station in the morning, then got some breakfast at a local café. Headed back to Kookaburra after refilling the gas bottles and buying supplies. Ended up going for a drive up to Mary's View Lookout just as Andrew and Iain were coming back from there.
Day 11 (Kookaburra) Wednesday 10/12
Decided to try and find caves in the more open country around Haydonville. Found numerous holes in and around the Natural Arch.
Day 12 (Kookaburra - Moparabah) Thursday 11/12
Drive down to Moparabah after cleaning the hut at Kookabarra. Found the temperature in the lower plains somewhat higher, and more humid. Set up tents and tarps just before the rain started. Iain and Mel drove separately to Kempsey, leaving the empty jerry cans behind. Thus Andrew and Steve decided to head out to Willawarrin, in order to fill them. Everyone returned in the evening, with Mel bringing back some pizza after being freaked out by the locals in Kempsey.
Day 13 (Moparabah) Friday 12/12
Spent most of the day inside Moparabah cave, sheltered from the heat of the outside world. Had a good time exploring many passageways, and coming across numerous bats. In search of the elusive exit passage…
Day 14 (Moparabah - Armidale) Saturday 13/12
After packing up, swimming in the river and eating lunch at Willawarrin pub (the chips at the local take-away were really good), we each headed in different ways; Steven and Iain were headed up north to Nimbin, in order to see the commune of Tuntabul. Andrew, Mel and Olaf headed towards Armidale, to find Mel's relatives. Ended up not finding them, but finding dinner instead at a local pub.
Day 15 (Armidale - Nimbin) Sunday 14/12
After a swim in the caravan park pool, said out farewells to Andrew who was going to drive back to Canberra, then headed out to give those relatives another try. Ended up finding Mel's cousin and driving to Walcha to catch up with more family. Drove to Nimbin in the afternoon.
Day 16 (Nimbin – Armidale) Monday 15/12
Met Iain and Steve in Nimbin, where we had some lunch, some games of pool and then headed back to Armidale.
Day 17 (Armidale - Abercrombie) Tuesday 16/12
After a late breakfast at a Bakery in Armidale, headed towards home, stopping for lunch at Tamworth, and dinner at a really cool Irish pub in Mudgee (the interior design was really nice, as was the food!!). Drove all the way to the Abercrombie caves camping area.
Day 18 (Abercrombie - Canberra) Wednesday 17/12
Got up early in the morning in order to avoid paying camping fees. Checked out the Abercrombie walk through to the Stable Arch, then headed home with a last lunch at the Paragon in Goulburn (in keeping with NUCC tradition).