Participants: Christopher Bradley, Lachlan Bailey, Bill Lamb, Whitley Rosenberg, Brittany Brockett, Andy Waddell, Xinyi Liu, Dan Liu, Tom Donda, Maxx Fioriti, Shannon Horan, Tali de Mestre, Shweta Balaji, Daniel Sun, Owen Lennon, Ellie Bishop, James Carey, Sophia Cain, AJ Sethi, Kong Tin Yi, Shao Qi Lim, Eliza Lane, Byungchan Kang, and Amber Jones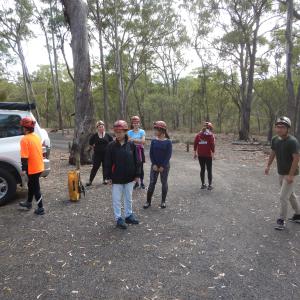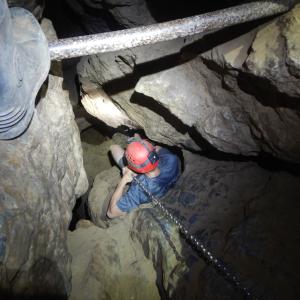 As our first trip for the year after the annual influx of beginners on Market Day, there were scores of new cavers spread between six cars heading up to Bungonia on Saturday morning. For many, this was going to be their first time underground so there was plenty of excitement.
We arrived around 10am and had enough people to split into three groups, giving more confident beginners a chance to explore more challenging obstacles while those less comfortable with heights could be given extra guidance. Bill disappeared to rig an exit to the day's cave while others were shown around some of the nearby Bungonian wonders such as the cave Canberra-Steam Pipe (B7-14).
All three groups entered B4-5 (Fossil Cave- Hogans Hole) through the B5 entrance. The faster groups went first, while the rest were shown techniques for navigating squeezes and climbs using the holds available in the first few meters of the cave. All beginners were keen to challenge themselves, so all successfully attempted these obstacles, making for an efficient start to the day. Sending fresh beginners through a cave as sporty as B4-5 is designed to give them a quickstart introduction to the caving skills they will need later on, as well as appropriate exposure to small spaces, big drops and dusty clothing. So it was convenient that the beginners had such a positive attitude, allowing us time to fit more of the cave into the day.
Each group took a slightly different route through the cave. The faster groups explored around the entrance of the B4-5 Extension, Kings Cross and checked out the tree roots in Root 19. Much complaint was heard when both faster groups collided in the very squeezy passageway below Root 19, with some excellent acrobatics being required to fit a dozen people into a chamber that would otherwise fit half that number.
The groups rendezvoused in Signature Chamber near the end of the cave to sit down and have some sugary snacks, as there was more climbing ahead of us. Here Bill found what appeared to be a large worm, and after preliminary inspection we deduced that we had found a small snake! Brittany endeavoured to save a life and very carefully extract the serpent from the cave via a small metal bottle to release it near the entrance, based on the assumption it was not a cave dweller. After some research into what we had discovered, she was confident it was a blackish blind snake (Anilios nigrescens), which usually lives underneath leaf litter and travels through tunnels created by insects.
After exiting the cave, Bill turned the contents of his small fridge into a food fountain large enough to feed 5000, offering an abundance of cakes, rolls and cinnamon buns to everyone who had the space to fit it in.
Having feasted, most of the crowd went on a small walk to check out the Lookdown over the beautiful Bungonia Gorge and slightly out of place limestone quarry. Following this, the many weary but newly christened cavers packed themselves back into cars, and we returned to the ANU car park where gear was returned and parting goodbyes made.