Participants: Chris Bradley, Andy Waddell and Lachie Bailey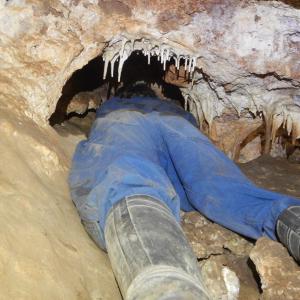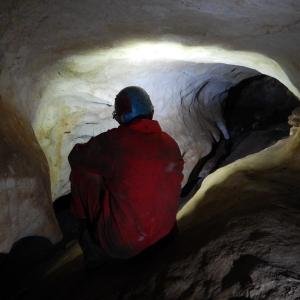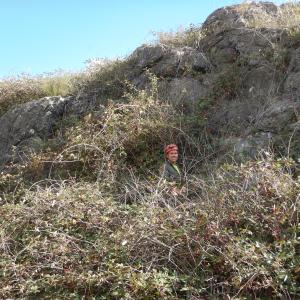 There is currently a statement on the NUCC website under the page on Mount Fairy: "We always go to Mount Fairy as a day trip", so of course Lachie set out to prove the author wrong.1 The main reason for the trip was that in the space of a week, the status of NUCC's new cave had become hotly contested, as there was a HSC cave within the margin of error of the GPS used that had a kinda similar map. And plus, we found one cave at Mount Fairy, who knows what else there is to find? I still haven't located the fire-breathing wombats that are supposed to be endemic to the area; they must be yet another casualty of the NSW government's environmental policies. So Chris, Andy and Lachie trooped back, once again (with more dismay from Chris) in Lachie's X-Trail. Apparently he took the corner off the Tarago road less like a madman this time though, so the club's driving standards might be improving.
We quickly set up camp, and headed off to say hi to the local landowners. They were really friendly, and we were allowed access to the old quarry area, and to the area around the Effluxes for Main Cave. However, first priority was our new cave, so after a quick squiz at the quarry (some interesting mining relics and lots of blackberries) we headed off across the Zimmerman's property towards Main Cave and set to work looking for MF59.
Four hours later, we finally found it, buried under a massive thicket of blackberries that Andy had hacked through (getting him appointed as the club horticulturalist). This confirms that our cave from the previous weekend was most likely new! With much effort, Lachie, Chris and Andy all made it through the squeeze in the new cave too, and in that order of increasing difficulty as well… We estimated there's about 40m of passageway in the cave, much of it tall enough to stand up in, with some obvious abandoned streamway. A few leads were pushed, one requiring traffic control to delicately pass some straws. A couple of maybe leads remain, along with an obvious dig that would be awful.
We also attempted a voice connection to the MF35 mine adit, with no results except that Lachie was nearly deafened by blowing on his whistle in an enclosed space. Lachie eventually got bored and tapeseiled into MF25, discovering that it is a brilliant piece of cave that really needs another visit and a ladder to get back out.
On finishing the day's caving, a short walk up the valley was had to see the extent of the limestone and spot some of the other entrances. We got back just on sunset, and were very kindly allowed by one of the landholders to collect some firewood, so the chilly evening was greatly brightened by a campfire.
Day 2 did not feature another visit to the Main Cave area- we wandered around to the Effluxes on Sandhills Creek, and Lachie found another new cave on the hill above them. Sadly, it was smaller than Whitley's at only 6m or so long, and he encountered an unimpressed wombat on the wrong side of a nasty bedrock squeeze. Wedgies were seen, blackberry bushes were contemplated, and surfaces were trogged.
Eventually we crossed over Sandhills Creek and had a look at the limestone on the north side of the creek, although we didn't find anything cavey. A mid-afternoon retreat was made back to Canberra, leaving much unfinished business at Mount Fairy. NUCC will be back…