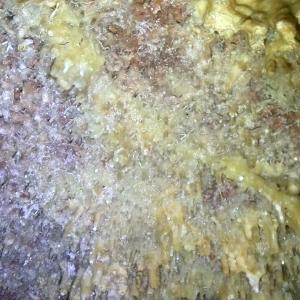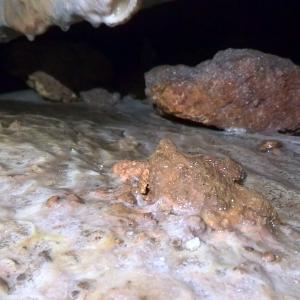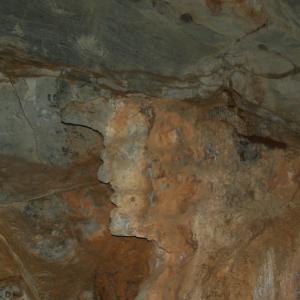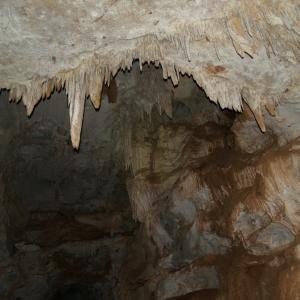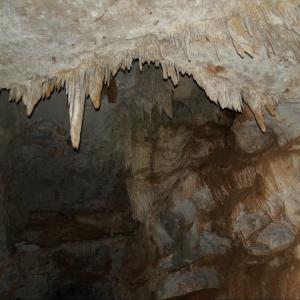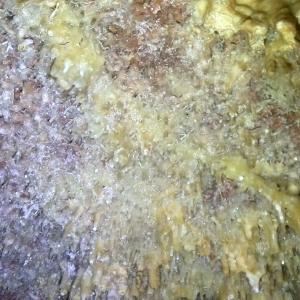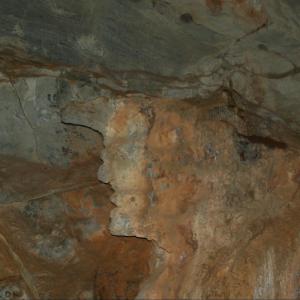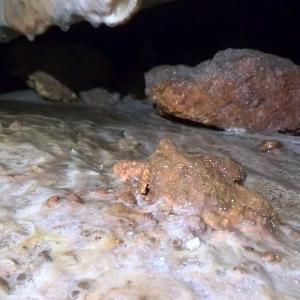 The trip began with everyone arriving promptly before 8am, except the trip leader who arrived five minutes late (supposedly a tradition). We collected gear from the store room, split into three cars and left for Wee Jasper. It was extremely foggy, so we couldn't see any of the surface geology that Wee Jasper is known for. We decided to split into two groups with one group laddering into Gong Chamber (the Series 4 Extension in Dip Cave) and the other group exploring Series 1 and 2 via the Rubbish Tip entrance (Ed note: Gong Chamber of Dip Cave is connected to Series 4 by an impenetrable slot, but some call it Gong Cave regardless).
My group started with Gong Chamber. I prepared poorly for this cave by wearing Cordura overalls which left me sweating profusely after a few minutes of caving. Thus, I removed the overalls and spent the rest of the cave in shorts and a T-shirt which was far more comfortably but left me feeling a little unprotected (some knee pads would have been appreciated). I definitely believe cotton overalls are the way to go for dry caving, especially at Bungonia and Wee Jasper. After laddering out, we attempted to locate the tag but with no luck. Either it has been cleverly placed far from any obvious location, or covered with vegetation as often happens to cave tags.
We had lunch and then swapped caves with my group entering Series 1 and 2. The Rubbish Tip entrance seems fairly well maintained with a newish looking rope in place to prevent any slipping and crawling in glass. While my group was exploring Series 1 and 2, apparently the other group was having fun attempting to get each other stuck near Gong Chamber. They discovered a squeeze that takes them into the same chamber, i.e. utterly pointless (the best kind of squeeze) which you had to be in just the right position to get through. I am keen to give this squeeze a go on a future trip. Inside Series 2 I had a little play with photography, but got a little stumped by the focus. Lesson here is to get things working above ground before going underground.
At around 2pm we exited back out the Rubbish Tip to find the other group had finished Gong and been waiting around for 'years'. Since there was still plenty of daylight we migrated over to Signature Cave. On the way we had a little crawl through Amoeba Cave (not sure if that's its actual name) or at least some of us did (Note: this is a long running discussion, and I am pleased to report that what we've been calling Amoeba is actually Anemone Cave). It's funny how the most experienced cavers seem the least willing to do crawls, but the most excited to get others crawling. We had a fairly relaxed stroll through Signature Cave and I got a couple more photos, but with my phone this time. Afterwards four of us went up the hill to locate the tag on Devil's Punchbowl. I was nominated to go search for the tag. After five minutes of finding nothing Lachlan came in to help and found it instantly, up at the top of doline. Devil's Punchbowl is a very impressive karst feature that I highly recommend visiting if you're in the area. The fog had cleared for the drive home so we could actually see the Wee Jasper hillsides. We arrived back at ANU just as the sun was setting, marking the end of a successful and enjoyable trip.